Data Analysis
Project 2: Devices and Geographical Distribution
This project is part of the University wide Experimental Teaching and Learning Analytics group organized by Northwestern Information Technology.
Goals
Identify patterns in mobile and desktop usage by students and instructors
Show the geographical distribution of DL students [later?]
Data
Findings listed here are based on MSGH courses offered in Fall 2015. These courses were chosen because a small set (5 courses) represents a complete program.  We also knew beforehand that these courses included non-US students, so we expected to find interesting geographical results.
Why Mobile?
For the purposes of this project, the category of "mobile" devices includes any device that does not register as a desktop.  For instructional design purposes it might be desirable in future to break out devices into type and screen size.
In general, non-desktop devices are used for different purposes and even at different times of day than are desktop devices —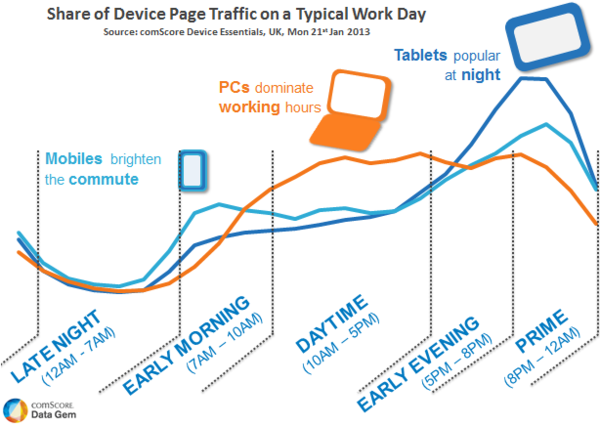 Source: http://www.comscore.com/Insights/Data-Mine/An-Average-Monday-in-the-UK-PCs-for-Lunch-Tablets-for-Dinner
In addition to knowing how instructors and students are seeing the pages we design, then, the question of which device a learner uses may lead to further questions about learner behavior.
Findings
Mobile Device Usage
In the Fall 2015 MSGH courses, we found the following patterns in mobile usage:
Mobile devices represented about 4% of usage overall
Mobile usage varied significantly by course
Instructors are much less likely than students to use a mobile device
Students who use mobile devices use different parts of the course from students who use desktops
Overall Mobile Usage
Overall, about 4% of courses accesses by both students and instructors came from mobile devices:
However, mobile usages varies significantly course by course:
A logical next step would be to determine why some courses seem to attract more mobile usage than others.
Mobile Usage: Instructors v. Students
If we break our hit counts down into students and instructors, we see that instructors were less likely to use a mobile device to access these courses than were students.
This implies that instructors rarely see their course sites in a mobile device; in raw numbers, the MSGH courses saw over 25,000 hits from students, but just 119 from instructors. Going forward, it might be worth encouraging instructors to view their sites with a mobile device, especially if mobile usage grows over time.
Overall Mobile Usage
Students use mobile and desktop devices to access different types of resources.
Next steps
Gather feedback from faculty and ID stakeholders on mobile stats
Provide visualizations of geographical distribution data
Work with NUIT to create dashboard permitting the comparison of current course data to historical data while course is in progress