Glenn LeBlanc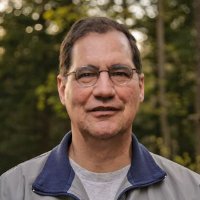 I am a freelance learning designer with Northwestern University's School of Professional Studies, working to develop courses in the Predictive Analytics and Information Design and Strategy programs. I recently retired as Senior Instructional Designer at University College in the University of Maine System, where for 23 years I worked with faculty teaching at a distance using multiple technologies, including interactive television, the Blackboard course management system, videoconferencing, desktop conferencing, and screencasting.
My interest in providing educational opportunities for rural and under-served students began as a Peace Corps Biology and Math teacher in a village government secondary school in Cameroon in the early 1980s. I pursued this interest with a focus on Anthropology and Education, completed a Master's degree in Anthropology at Syracuse University, and completed all course work in the Ph.D. program in Instructional Design, Development and Evaluation at Syracuse University School of Education. I have a BA in Biology with a minor in Philosophy from Boston University and have taught Biology at the junior and senior high school levels.
While I am proficient with many instructional technologies, my main interest related to online and blended learning is in what we can learn from long-standing theories and principles of learning and instruction. I have been a strong advocate for the role of instructional design in online learning, with a focus on aligning instructional goals, teaching and learning strategies, and assessments, and for basing decisions on credible research rather than anecdotal accounts of "best practices" and untested assumptions.
When I'm not working I enjoy being outside — hiking, swimming, kayaking, and snowshoeing. My passion is nature and landscape photography.