Khusro Kidwai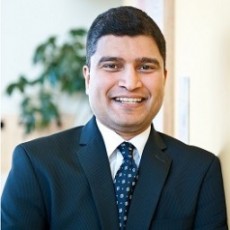 Assistant Dean, Distance Learning
312-503-4316

Chicago Campus

9:00 am - 5:00 pm
Khusro Kidwai, Ph.D., is Assistant Dean, Distance Learning with Northwestern University's School of Professional Studies. In this role he collaborates with the School's leadership and Office of Distance Learning staff to establish and implement a vision for online learning. He is responsible for overseeing partnerships with other offices in the school – Graduate Programs, Undergraduate Programs; Professional & Post-Baccalaureate Programs, Marketing, and Student Services.
Prior to joining Northwestern University, he was the Director of Online Teaching and Learning and the Director of the Center of Technology Enhanced Learning at the University of Southern Maine (2010-2012) and Research Associate at the John A. Dutton e-Education Institute at the Pennsylvania State University (2009-2012).
At the University of Southern Maine, he collaborated with the leadership in the division of Professional and Continuing Education to implement a vision and mission for the University's online and blended learning initiatives. He oversaw a portfolio of over 350 online courses across eight online programs. He directed faculty development initiatives, learning technology support services, and research and development initiatives. At Penn State, he founded the John A. Dutton e-Education Institute's Research and Development Initiative.
He received his Ph.D. degree from the Instructional Systems program at Pennsylvania State University in 2009. His doctoral work focused on the design and development of a web-based reading environment. His doctoral work led him to co-found educational startup firm Learning Interfaces, LLC. Learning Interfaces was selected among 17 education startup firms from over 1500 international applicants to participate in Kauffman Foundation's inaugural Education Ventures Lab program.
He received his other degrees in Physics — MS from the University of Delhi and BS from St. Stephen's College, Delhi.
In 2013 he was elected to the Board of Directors of the International Board of Standards in Performance, Training and Instruction (IBSTPI).
SELECTED PUBLICATIONS
• Thornton, L., Ferris, N., Johnson, G., Kidwai, K., and Ching, Y. (2011). The impact of an e-portfolio program in a music education curriculum, Journal of Music Teacher Education, 21(1), 65-77.
• Kidwai, K., Johnson, G., Hsieh, P., and Hu, R. (2010). Promoting reflective thinking through e-portfolios. In N. Buzzetto-More (Ed.), The e-portfolio paradigm: Informing, educating, assessing, and managing with e-portfolios (pp. 247–266). Santa Rosa, California: Informing Science Press.
• DiBiase, D., and Kidwai, K. (2010). Wasted on the young? Comparing the performance and attitudes of postadolescent undergraduates and postbaccalaureate students in identical online classes. Journal of Geography in Higher Education, 34(3), 299–326.
• Ausman, B., Kidwai, K., Munyofu, M., Swain, W., Dwyer, F., and Lin, H. (2008). Effect of Prerequisite Knowledge on the Effectiveness of Animated Instruction. International Journal of Instructional Media, 35(3), 295–300.
SELECTED CONFERENCE PRESENTATIONS
• DiCerbo, K. & Kidwai, K. (2013, July). Detecting player goals from game log files. The 6th International Conference on Educational Data Mining, Memphis, TN.
• LaRocque, M., Burton, G., Siegenthaler, K., & Kidwai, K. (2013, April). Innovating our way through Disruption: Case studies from the University of Missouri and the University of Southern Maine. Panel discussion at the UPCEA 98th Annual Conference, Boston, MA.
• Peck, K. & Kidwai, K. (2012, September). Tools for transformative assessment: A key to developing skills. Presentation and demo. Duke University, Durham, NC.